We are strengthening security measures.
Currently, the Naha Airport, we have carried out the inspection, such as the following in the hijacking inspection field.
To everyone of you have access to an airport, you will want to apologize for any inconvenience due to the increase or the like of the safety inspection time, but thank you for your understanding and cooperation for the safety measures.
Inspection of coats and jackets
Your coat or jacket will be examined by X-ray inspection apparatus.
Inspection of liquids
Liquid products such as drinks made in your carry-on to the starting area, it will be tested in liquid product inspection equipment.
Inspection of shoes
For such as shoes, it may be inspected at the take off will X-ray device.
What you can not bring to the cabin
Cutlery, those that can be a dangerous weapon such as by swiping, those tips are pointed significantly to obtain those made with other weapon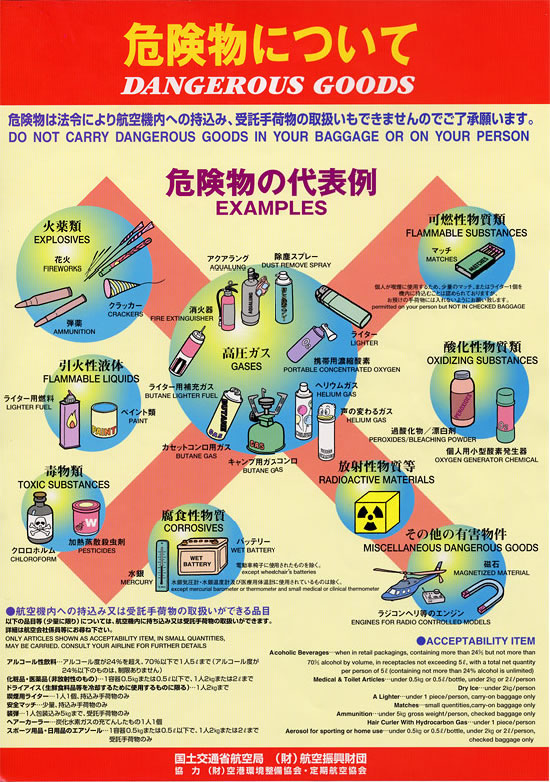 Quote "for dangerous goods," the Ministry of Land, Infrastructure and Transport Aviation Administration poster
Cell phone, keys, etc. accessories, please put your glove compartment of furnishing inspection field.
When subjected to inspection by the metal detector, cell phone, keys other than hazardous materials, metal objects, such as coins, please put it in the glove compartment of furnishing to the pre-inspection field. We apologize for the inconvenience, thank you for your understanding and cooperation.
Hijack inspection park is crowded with time zone.
In the hijacking inspection area there is a time zone in which congestion. In advance to avoid that the time zone, To as soon as possible or slowly, please secure the time margin to allow hijacked inspection. Slightly change depending on the number of season and the flight but the time zone in which congestion will generally be as follows.
Inspection lot congestion time zone (approximate): 11 am to 16 pm